Peter and the Starcatcher Sets Sail at Royal Bay Secondary
Peter and the Starcatcher is a whimsical tale that tells the story of how an orphaned boy becomes Peter Pan. This Tony Award winning play (that contains lots of music) promises to be an adventure for the young, young at heart, and those determined to never grow up.
Wednesday March 6, 2019 at 7:00pm
Thursday March 7, 2019 at 7:00pm
Friday March 8, 2019 at 7:00pm
Saturday March 9, 2019 at 2:00pm
Tickets:
$12.50 for adults
$10.50 for students/seniors
$5.00 for SD62 students and Theatre Department Alumni
We are offering a special Starcatcher Ticket Bundle to all SD62 students, staff, and families. Buy any 4 tickets for $30. Offer has now been extended until Wednesday February 20th! 
Tickets are available at the Royal Bay School Office, 250-474-2377
Melissa Young
Theatre Director
Royal Bay Secondary
myoung@sd62.bc.ca
Dear Parents,
The early bird registration deadline for The Vancouver Island Parent Conference (VIPC) is fast approaching. Save $25 by registering on February 3rd! And ask your school PAC about free tickets which may still be available.
Join us on March 2nd for our best conference yet, with inspiring speakers, exhibitors and engaging conversations. You are invited to a full day of immersive learning with parents, teachers, support staff and anyone who cares deeply about children.
The first 100 paid registrants will receive a swag bag valued at over $100!
This year's theme is Change: It's Here to Stay. With this focus in mind, you can expect to attend sessions on: resilience, the brain, relationships. sexuality, technology, anxiety and much more.
Early Bird Registration is February 3rd.  Seats are filling quickly so visit http://vipc.ca today!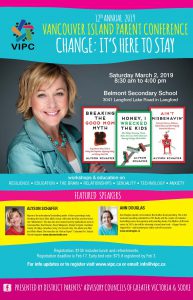 Dear Parents/Guardians,
With the possibility of snow this week and next, please take a look at our weather procedures. Schools remain open if at all possible, including during snowfalls. It is ALWAYS up to the parent to decide whether or not to send their child to school during inclement weather.
Weather-Related Closures & Cancellations
For instant updates and information posts, please follow us on social media:
• Facebook: School District #62
• Twitter: @SD62_Sooke
We will also post to the SD62 Website: http://www.sd62.bc.ca/
Thanks for taking the time to look through this,
SD62 Communications Team
Dear Parents/Guardians,
If you have a child who will be heading into kindergarten this coming September, here is some important information for you.
Registration period: Monday, January 28 – Friday, February 1.
All registration is done online here: SD62 Registration https://registration.sd62.bc.ca/apps/SookeStudents
In the event there are more students than spaces available in kindergarten, student enrolment will be approved based on the following:
re-enrolling students
a catchment area child who has a sibling currently attending the school
a catchment area child
a non-catchment child who has a sibling currently attending the school
a non-catchment child
a non-school district child
These enrolment priorities apply to all new registrations and transfer requests.
NEW – Documentation requirements
The district has updated the documents required for registration. Please take a look at the SD62 Registration Guide for details on what types of documentation you will need to provide in order to register your child successfully. http://www.sd62.bc.ca/wp-content/uploads/sites/11/2018/11/Registration-Guide.pdf
New immigrant families (permanent residents, refugees or those on work/study permit or diplomatic visas):
Please contact the SD62 International Office at 250-474-9818 or in person at 200-814 Goldstream Avenue before completing the online registration.
Please visit the Registration page on our website for more information. http://www.sd62.bc.ca/parents/registration/
If you have any questions, please do not hesitate to call the school.
Your feedback is wanted: Draft SD62 calendars for 2019-2022
 The school district has posted draft calendars for the next three years. Please provide any feedback you might have to info@sd62.bc.ca. Feedback will be open until Friday, February 22, 2019. The SD62 Board of Education must submit a Board-approved calendar to the government by the end of March.
 Check out the calendars here: http://www.sd62.bc.ca/schools/calendar/
When using the system for the first time, parents must use the front page to request an access number (which acts as their password).
Parents use the verification number to gain entry. From there, they can provide consent to the six activities. If your student is not listed, please make sure that the email address used is the same email address your students school has on file.
This is meant to be a one-stop shop for parents to provide consent.
The URL for this page is https://consent.sd62.bc.ca
Here are the consents that are available as this time to be collected online:
Media Consent
Internet Access Consent
General Consent for School Fieldtrips/Activities (Short walking trips)
School Cash Online Consent
Fresh Grade Consent
Google Apps For Education Consent-Grades 4 and 5 only
Aboriginal Education Information and Self-Identification
When do the Consents expire?
Some consents (namely GAFE, KEV, and Fresh Grade) expire once a student leaves the district and/or graduates
Some consents last one school year
The system tracks the expiry of these consents. To renew a consent year to year (for Internet access, as an example) a parent simply reconnects to the system next school year. The system will note that the consent has expired and will give parents an opportunity to renew their permission.
How do you sign up for these consents?
Step 1 – Add registration@sd62.bc.ca to your email contacts
Step 2 – Parents go to the link https://consent.sd62.bc.ca
Step 3 – Add your email address
Step 4 – Go to junk folder as the verification number may be sent to this folder. Make note of your SD62 email verification number
Step 5 – Add the verification number Step 6 – Click on the Consents and choose, "I do give consent".